The days when consumers would support brands without knowing anything about them are over. The internet has made it easier than ever to learn about the ethics and practices of companies that consumers support. Companies with track records of ethical missteps or questionable policies can't hide those blunders anymore. Instead, they bear the brunt of bad social media buzz, which can have a very real impact on their stock prices and overall reputations.
In 2014, American Apparel founder and CEO, Dov Charney, was ousted over a series of misconduct allegations. Charney has been sued by multiple former employees for sexual harassment and other forms of misconduct. His behavior—and his ongoing legal battle with American Apparel—has been blamed for tarnishing the company's legacy as a fashion business that emphasized a "Made in the USA" mission. Charney's oust caused a rapid drop in American Apparel's stock prices.
While American Apparel's woes have largely been linked to these issues of misconduct, there is another major area in which consumers' brand expectations are growing: sustainability. Data shows that modern consumers want to support sustainable companies. According to an international Unilever survey, one-third of all consumers prefer sustainable brands. A 2015 Nielson survey saw 66% of consumers stating that they were "willing to spend more" on a product if the brand behind it was sustainable. And, in the case of millennials – the most attractive demographic to most fashion brands – the Nielson report found that 73% of millennial respondents don't simply seek out sustainable products, but will pay more to support these brands.
Simply put, sustainable or ethical brands are all the rage with consumers. This preference has led to the rise of many green-conscious businesses, including a growing segment of ethical fashion brands.
Ethical fashion: what it means and how to find it
"Ethical fashion" refers to clothing and apparel produced by manufacturers that aim to reduce waste and exploitation in their supply chain wherever possible. Ethical fashion brands try to achieve more sustainable practices by eliminating or improving some of the practices that have long been common in the fashion industry.
Here are a few of the strategies ethical fashion brands are employing to be less wasteful than other brands:
Changing their clothing lines less frequently: Most fashion brands have different clothing lines every single season. This "out with the old, in with the new" mentality leads to smaller manufacturing runs for garments and encourages shoppers to swap out their wardrobes more frequently. Ethical fashion brands offer fewer of these seasons, which usually means they have smaller manufacturing footprints and urge their customers to shop more sparingly.
Stocking fewer product lines and fewer SKUs: Ethical fashion companies tend to produce and stock fewer clothing items than competing brands. These companies focus on a small handful of clothing lines, rather than trying to provide fashion choices to a broader range of consumers. As a result, they have fewer items for sale at any one time and will try to sell out those items before introducing new items or clothing lines. The goal is to sell or use everything that is manufactured rather than ending up with surplus items.
Paying attention to the materials they use: Ethical fashion products are made with ethically-sourced materials whenever possible. Garments made with vintage or waste fabrics are one example. Clothing lines that use recycled or renewable materials – such as linen, silk or hemp – are another example. Interestingly, cotton is on the borderline. Organic cotton does not contain GMOs, which are common in standard cotton. However, the production process for organic cotton tends to involve large quantities of water, calling its sustainability into question. Dyes are also a factor since many of the dyes that deliver the rich colours found in clothing are toxic or harmful. Synthetic dyes can cause a lot of pollution and can also irritate skin or affect health. Brands that use all-natural dyes fit on the ethical fashion spectrum.
Ensuring ethical, non-exploitive working conditions: What suppliers do the company in question use to source the materials for its clothing? Where are the company's factories located? How much does the company pay the workers who are making its products? Many brands either source their materials from suppliers that shirk environmental regulations or operate their factories in nations where economic environments allow the exploitation of workers, sometimes in slave-like conditions. As a result, ethical fashion products often cost more because it is far more expensive to source materials ethically and compensate workers fairly.
Ethical fashion can employ more than just these four strategies, too. Consumers appreciate it if the brands they support have developed an active voice on certain social or environmental issues. Consumers can learn a lot about a company by reading its mission statement and seeing how many of these items are mentioned as priorities.
Finding ethical or sustainable fashion brands used to be a challenge, since many are still on the path to establishing their branding and tend to be smaller, lesser-known businesses. The good news is that, just as the web has proven to be a valuable tool for uncovering and illuminating corporate blunders, it has also been useful for spreading the word about more ethical and sustainable fashion brands. As high-street retail becomes less important to establishing a fashion brand, ethical fashion houses can leverage their online presence to grow their audience.
Ethical clothing brands make an effort to provide detailed information about how their processes meet moral benchmarks. Everlane – which appears on many lists of ethical fashion brands – pledges "radical transparency" in every aspect of its activity. The company spends months finding, researching, and visiting factories around the world. As its website explains, "Each factory is given a compliance audit to evaluate factors like fair wages, reasonable hours, and environment". The company also reveals the true cost behind their products – including everything from materials to manufacturing labor to transportation – and vows to use only the finest materials. Finally, every Black Friday, Everlane donates all profits to the people who work in its factories.
(Source: Business Insider)
Why ethical fashion is good for the clothing industry
While ethical fashion companies are often presented as being in opposition to the "establishment" of recognized big-name companies in the clothing industry, the truth is more complicated.
As social media and the internet have made consumers more aware of the brands they support, shoppers have been looking for more sustainable and ethical businesses to get behind. Buying from an ethical fashion brand makes consumers feel good about their purchases, adding another layer to the excitement and joy of clothes shopping. By offering guilt-free consumerism – and high-quality products to boot – ethical fashion companies are offering customers something that hasn't been available in the past.
Ethical fashion companies are helping to expose the challenges built into the current fashion industry, and this trend is pushing some bigger brands to be better. In 2016, some of the leaders of the ethical fashion movement released a document called the Fashion Transparency Index, or FTI. The FTI identified major brands that had recently made substantial strides forward in transparency and ethical policies. Companies like Gucci, H&M, Zara, and Adidas were recognized for substantial improvements in their practices. The more that clothing brands feel like their target customers are demanding ethical and sustainable practices, the harder they will try to provide them.
In 2017, both H&M and Zara – as well as companies like Gap and VF Corporation – made moves to boycott the Dhaka Apparel Summit. The event is held annually by the Bangladesh Garment Manufacturers and Exporters Association (BGMEA). Bangladesh is a major hub of manufacturing for clothing and apparel. It is also known for appallingly poor working conditions. The Bangladeshi government – as well as numerous clothing factories – have been accused of squelching worker unions, among other industry sins. Major clothing brands standing up against Bangladesh and demanding better working conditions – and an end to human rights violations – is a major step forward for ethical fashion in general.
Ethical fashion companies like thredUP are pushing for more change. This year, they penned an open letter to Burberry (seen below) which ultimately succeeded in getting the fashion brand to find less wasteful methods of ridding their unsold product. Fundamentally, you just can't get away with being grossly unethical these days. If you try it, the pressure to change is overwhelming.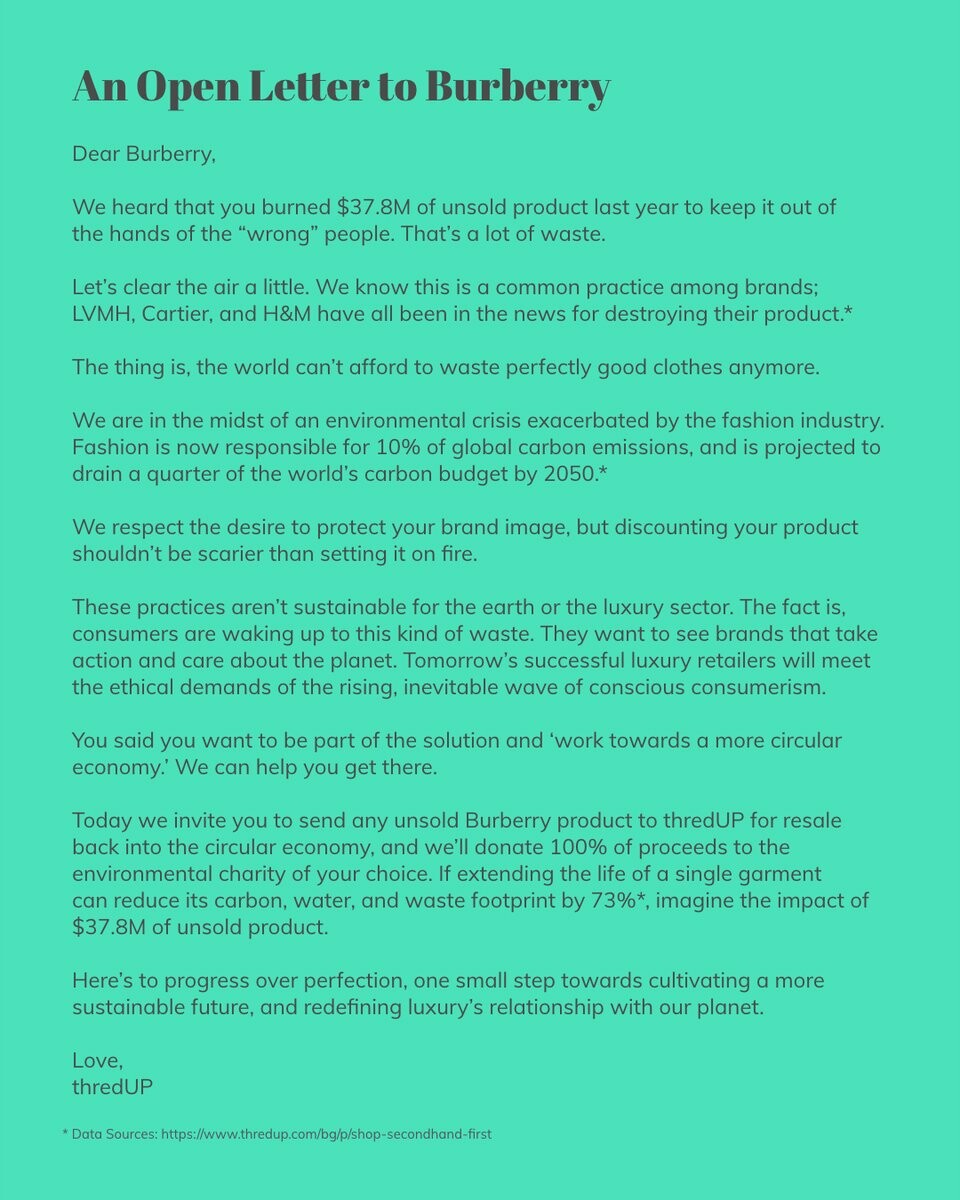 (Source: Twitter)
How can ethical fashion brands compete in a fast-paced industry?
The good news for ethical fashion brands is that consumers are starting to push back against the "speed" of fashion. They are questioning their tendencies to buy too much and wear too little. They are wondering why their clothing feels so cheap and disposable, and if it might be smarter to pay more for garments that will have a longer lifespan.
As we've mentioned, ethical fashion brands tend not to have the huge corporate budgets of some of the incumbent fashion companies, which means it is harder for them to effectively get the word out about their products. In many cases, it's a struggle to get their garments on runways and into fashion shows. As a result, these brands are still relatively unknown.
How can ethical fashion companies compete in an industry defined by speed and money if they have neither? In recent years, many fashion companies have come to believe that capturing the attention of influencers – celebrities and personalities with large social followings – is a good bet. And ethical fashion is no different. Actress Emma Watson, of Harry Potter fame, is known for her advocacy of ethical fashion. Watson has collaborated with ethical fashion brands (she has partnered with companies like Zady and People Tree to create ethical clothing collections) and helped to spotlight companies with which she is not directly affiliated. Watson will often post "outfit of the day" photos on Instagram, highlighting new ethical clothing companies or designers she is wearing.
Rosario Dawson, an actress known for roles in films like 'Rent' and TV shows like 'Daredevil', is also an entrepreneur who helped found the ethical fashion company, Studio 189. Actress Olivia Wilde teamed up with H&M for its 2015 "Conscious Exclusive Collection", which used recycled and organic materials.
Celebrities are helping to make ethical fashion more visible, but influencer support is not a guarantee of success. Shortly after Watson's partnership with Zady, the company went out of business. On the Zady website, the company left a note for customers stating intentions to focus on "solutions that can turn the entire $2.5 trillion industry into a force for good."
High-profile partnerships with celebrities are a decent way for ethical fashion companies to break through the noise, generate social media buzz, and get noticed by customers who might not be actively looking for ethically produced products. The problem is that landing these celebrity partnerships is often expensive for ethical fashion brands. The celebrities discussed here may be genuine in their support of ethical fashion brands, but that doesn't mean these celebrities aren't getting anything out of these partnerships.
In most influencer marketing programs, fashion companies pay their celebrity influencers up front to secure those posts. And, frequently, the celebrities get a cut of profits – not an easy thing to swing for small, struggling companies that already have low-profit margins, to begin with. Celebrity influencer relationships might make more sense if they guaranteed success, but they simply don't.
Celebrity influencers can help an ethical fashion brand, but these partnerships are not accessible to every business and aren't necessarily lucrative or financially feasible for the ones that can make contact. Just because people follow a celebrity on social media doesn't necessarily mean they care about the clothing that person wears or puts their name on. In fact, many brands believe that their paid influencers don't care at all. Consumers may know Emma Watson and Olivia Wilde because they are actresses, and not necessarily because they are considered fashion experts. As a result, even well-intentioned celebrity endorsements can come off as "preaching to the wrong choir" as they put brands in front of the wrong audience.
But the basic idea of an influencer – someone who tries a brand, loves it, and tells their friends or followers about it – is an attractive one to any business. So how can ethical fashion companies harness the potential of an influencer system without stumbling into the pitfalls of celebrity influencer relationships?
The power of referral marketing
The best influencers for a brand may not be celebrities or personalities with substantial social media followings. In the past, we've looked at influencer marketing, examining the power of mega-influencers (celebrities), macro-influencers (people with social media followings of less than a million people), and micro-influencers (people with social media followings of less than 10,000 people). Macro-influencers tend to be social media stars of some sort (such as YouTube personalities), while micro-influencers tend to be bloggers or writers with substantial followings. What we have found is only a tiny fraction of a percentage of followers will click a link shared by an influencer – even an influencer who commands a considerable amount of clout and respect. Partially because these posts are often only seen by a small fraction of the influencers' followers (3% to 8% by some estimates) and partially because engagement doesn't necessarily yield conversion. It's easy to see how much of the money spent on influencer marketing goes to waste.
The keys to effective and affordable growth via influencer marketing are a brand's nano-influencers. Your loyal customers are already familiar with your brand and have demonstrated their love for it. They are probably already telling their friends or family members about it. They are already "influencing" people to purchase your products without any sort of compensation. Perhaps most importantly, the way these nano-influencers encourage other people to check out your brand isn't necessarily with social media posts and links that are shared with all of their followers: this person may be having conversations with colleagues, family members, and friends right now, explaining the quality of your products and the benefits of your services. These are authentic, one-on-one conversations about your brand with people they trust (and people who trust them).
When compared to mega-influencers, an individual customer is less likely to be able to reach millions or even thousands of people. However, the people who they do reach are more likely to listen to them – and take action as a result.
Marketing based on mobilizing these nano-influencers is called "referral marketing". Online, digital referral marketing programs track these brand ambassadors as they refer new customers. Every referral program can be customized for the brand but, essentially, customers are rewarded whenever the person they have referred completes a transaction or takes another desired action (like joining a mailing list, attending an event, or referring someone else). Referral marketing is simply the latest incarnation of word-of-mouth marketing: perhaps the most timeless and effective form of promotion ever.
One example of a referral program in the ethical fashion industry is Encircled, a women's clothing company based in Canada. Encircled specializes in "versatile". Their goal is to provide more functional clothing items so women can reduce the size of their wardrobes, buy less clothing, and wear the garments they own more frequently. Encircled sources all its materials from Canada and does 100 percent of its manufacturing in Toronto. The company uses scalable operations to avoid wasteful overproduction, utilizes only eco-friendly materials, maintains "solid face-to-face relationships with sewing studio owners", and ensures that every studio follows "stringent labor, environmental, and safety regulations".
The Encircled referral program provides an incentive which is billed as "Give $20, Get $20", rewarding customers on both sides of the referral transaction. Existing customers can send referral links to friends or family members using email or social media channels. These prospective customers who have been referred in are enticed to take advantage of the referral not just because it represents a recommendation from a friend, but also because they can get a $20 discount on their first order of $100 or more. Every time a referral is successful, meanwhile, the person who sent the referral link receives a code for $20 off their next order. A brand ambassador can send as many referral links as they want and receive an unlimited number of discounts for successful referrals.
Other referral programs in the ethical fashion industry follow similar templates. Everlane has a referral program that allows brand ambassadors to get $25 for every successful new customer referral. Nisolo, an ethical shoe brand, mirrors Encircled's referral program with a "Give $25, Get $25" offer. Pact, a brand that uses certified organic cotton and Fair Trade Certified factories to create garments "so soft you'll (almost) cry", has a program in which the referrer gets a $20 discount code, and the new customer gets 20 percent off their first order.
This Medium article links to 18 "sustainable activewear" brands that provide some sort of referral or discount program. For every ethical fashion company with an attractive referral program, there are dozens, or perhaps even hundreds, of others that have yet to embrace this type of marketing.
So, why embrace referral marketing? Consider this point: according to Nielsen, 84 percent of consumers trust recommendations from people they know. In fact, there is no other form of advertising as effective as referral marketing. Only 62 percent of consumers trust ads on television, while only 42 percent trust online banner ads.
These numbers are great news for ethical fashion brands looking to acquire new customers inexpensively. You don't have to spend big on traditional advertising methods to win over new people: you simply have to mobilize your existing customers and encourage them to spread the word.
Women between the ages of 18 and 24 are the group most likely to refer their friends to a product or service; 63 percent of customers in this in this demographic will share referrals. Crucially, women are most likely to make online referrals that pertain to clothing or fashion – more so than electronics, home décor or furnishings, jewelry or cosmetics, sporting goods, or childcare products.
Combined, these studies provide tough-to-debate proof that referral marketing is the best option for fashion companies, especially ethical fashion. Referral marketing is a way to reach the common target demographic for ethical fashion companies – young or middle-aged women – without spending huge sums of money.
Referred-in customers have been shown to be more loyal, spend more, and have a greater lifetime value than customers acquired through traditional means. And rewards from successful referrals not only encourage existing customers to shop more often with your brand, but also encourage more referral activity. Rewards don't have to be monetary, however, and can include experiences (invitations to shows and private trunk sales), gifts with purchase, and early access to limited collections.
Finally, compared to the potential costs of celebrity-driven influencer marketing, the costs associated with referral marketing are minimal. Giving an existing customer a discount in return for successfully bringing new customers to the table is far more economical than paying $250,000 for a single Instagram post from Kim Kardashian – especially when you have no idea how many conversions you'll get from that post.
How can ethical fashion brands compete in a fast-paced industry?
Do you own the marketing for ethical fashion businesses? Are you interested in bringing new customers to your brand without spending large sums of money? Do you want to see what kinds of results your brand can get from word-of-mouth with a referral marketing program?
Buyapowa can help. We work closely with businesses of all shapes and sizes to establish and launch powerful digital-first referral marketing campaigns, from major telecoms to global banks to household name retail brands. So, to get started on your new referral marketing strategy, get in touch with our team today.