A Quick Summary for Your Busy Day: (45 second read)
Cosmetics companies who develop and sell their own products have never had more opportunity to bring their products to market.
The past five years have seen a rapid rise in the availability (and affordability) of selling products online through ecommerce platforms such as Big Commerce, Hybris, Shopify, Magento, and WooCommerce, which has made it easier than ever to launch products to a wide audience without having to invest in costly brick and mortar stores.
The challenge remains to make prospective customers aware of new product and brand launches. Cosmetics companies are turning to paid celebrity endorsers – influencers – in the hopes that their social media posts will lead to increased sales. It's working, but costs are rising. Influencers are demanding higher and higher fees and brands are struggling to justify the cost and track the benefits.
This article shows that influencer marketing can be a powerful force for growth. But perhaps cosmetics brands shouldn't be making those expensive gambles. Perhaps counterintuitively, going small means going big.
Nano-influencers from within brands' own customer bases can represent the lowest cost and highest ROI.
---
BRANDS BIG AND SMALL ARE TURNING TO INFLUENCERS
It's no secret that, across the cosmetics industry, brands big and small are turning to online influencers – social media personalities with large groups of followers – to help refer new customers to their online marketplaces.
And the math makes sense. Businesses are making up to $6.50 for every $1.00 spent on influencer marketing. Econsultancy recently studied the value of influencer marketing programs, and reported that "almost 60% of fashion and beauty brands have an influencer marketing strategy in place", or plan to implement one within a year. So it's definitely a popular proposition, but it doesn't come cheap.
Online influencers can demand hundreds of thousands to millions of dollars for promoting a brand in an online blog or social media post. In some cases, as with Kylie Jenner and her Kylie Cosmetics line, the influencer is the brand. But, for brands who don't yet have such reach, can word-of-mouth marketing methods like influencer marketing, affiliate marketing and referral marketing generate good ROI? And, when there's millions of dollars at stake, how can smaller, up-and-coming brands leverage influencers without breaking the bank?
THE COSMETICS INDUSTRY IS CHANGING
No matter what happens next, with the Kylie Cosmetics brand flirting with a truly staggering 10 digit valuation, it's clear that the cosmetics marketing industry is changing completely.
Fortune magazine recently wrote that it took L'Oréal's Lancôme cosmetics brand 80 years to reach $1 Billion in sales. Estée Lauder's Bobbi Brown took 25 years to hit that number. And now Kylie Cosmetics (@kyliecosmetics) is about to show those giants of glamour exactly who's boss.
WWD recently reported that Kylie, with the help of her shrewd mogul mother Kris Jenner, is on track to reach $1 Billion in sales by 2022, having surpassed $386 Million in sales in 2017 alone.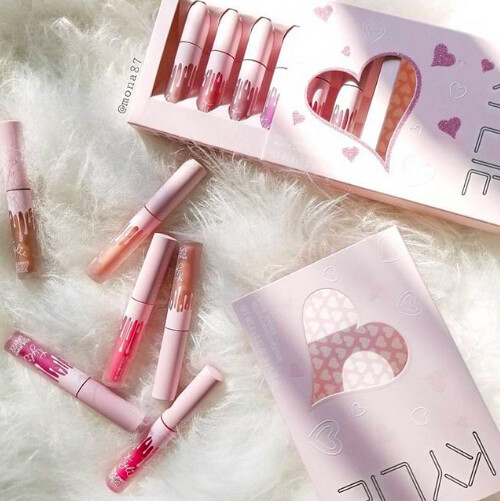 REFERRAL TRAFFIC FROM INFLUENCERS IS GROWING
Referral traffic from influencers is growing, even for older brands. SimilarWeb shows that 24% of Nordstrom's mobile traffic came from referral channels, and a single influencer network, RewardStyle, delivered 79% of that referral traffic.
The researchers at Coresight reported on data released from Activate by BlogLovin in February 2017. Their report showed that 76% of marketers are seeking to increase brand awareness through influencer referral marketing campaigns.
Online celebrities and influencers like Britain's cosmetics blogger Zoe Sugg (@zoella) can have millions of followers online (Sugg has 11,600,000 Youtube followers, and 10,700,000 on instagram). They can have an own-brand cosmetics line marketed via a high street retailer, and can command massive fees for social posts. Despite the fact that those posts are carefully crafted, and can cost the blogger thousands of dollars to put together, they can generate hundreds of thousands in revenue for the advertiser looking to extend their reach.
It's both art and science, and the smartest influencers can command huge dollars for each social media morsel they lay out.
MILLION-DOLLAR INSTAGRAMMERS CHANGE THE GAME
HopperHQ's 2018 "Instagram Rich List" is a who's who of the entertainment and sporting elite:
Kylie Jenner – 111,000,000 followers ($1,000,000 per post)
Selena Gomez – 138,000,000 ($800,000)
Cristiano Ronaldo – 133,000,000 ($750,000)
Kim Kardashian – 113,000,000 ($720,000)
Beyonce Knowles – 115,000,000 ($700,000)
But, thankfully, the influencer marketplace doesn't begin and end with million-dollar household names like Kylie and Selena.
BUT INFLUENCER MARKETING DOESN'T BEGIN AND END WITH MILLION DOLLAR NAMES
As our own Robin Bresnark recently wrote:
"… a recent study from Rakuten Marketing suggests that the going rate for a mega-influencer on Snapchat is now £53,000 ($67,000), YouTube will set you back £67,000 ($85,000), Facebook's gonna cost you £75,000 ($95,000) and, if you're in the premium fashion world, it doesn't matter which channel your influencer-of-choice posts on – it's still gonna burn to the tune of £160,000 ($200,000) or more. And that's a hell of a lot of money to pay someone for pimping your parkas five minutes before she appears in her next video wearing something by a rival brand."
Robin continued:
"In fact, macro-influencers (those with fewer than a million followers) and micro-influencers (those with fewer than 10,000 followers) get up to ten times more engagement per follower than mega-influencers, and marketers have started to switch their attention (and their budgets) accordingly."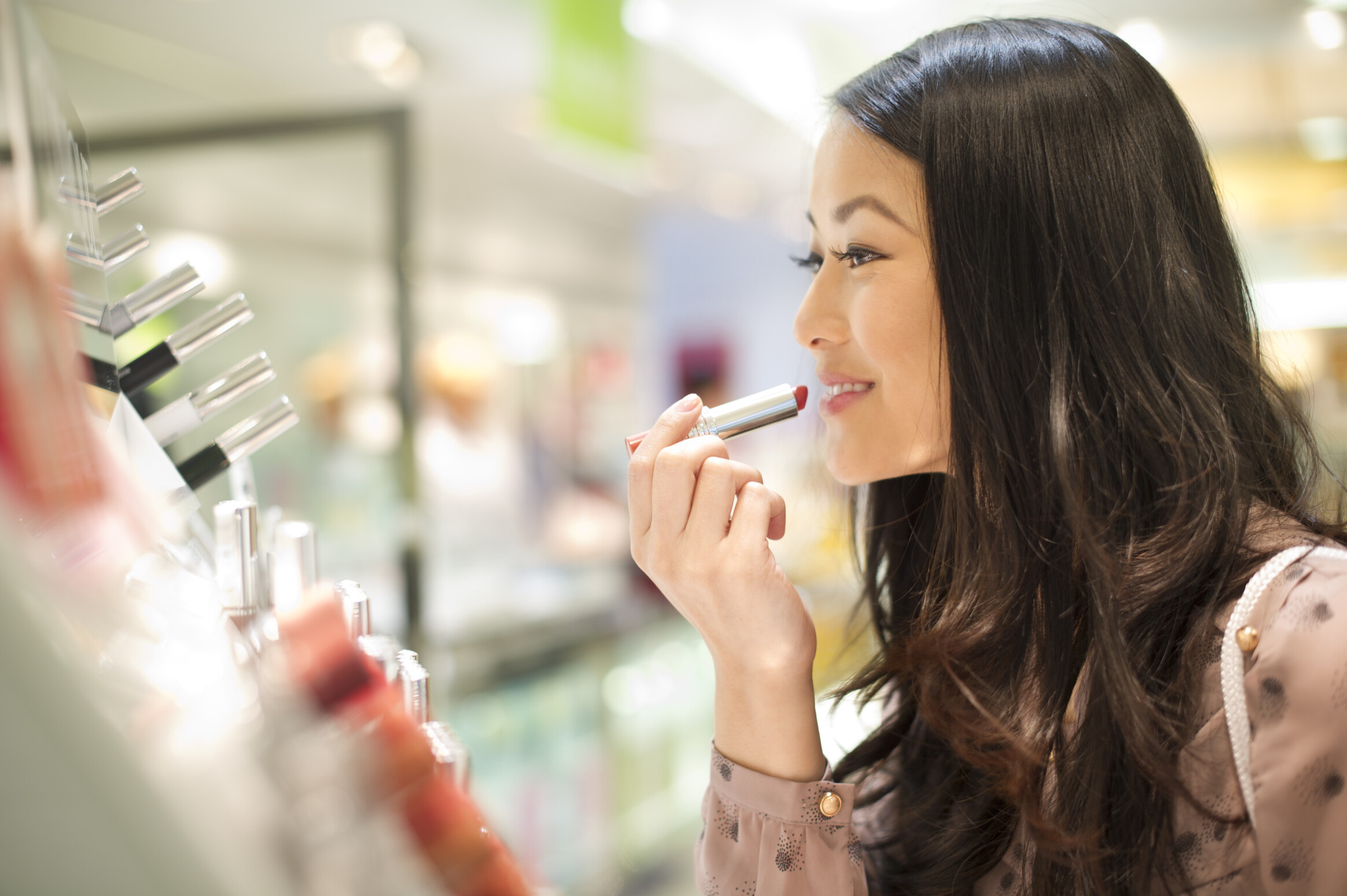 MICRO-INFLUENCERS SHOULD NOT BE IGNORED BY BRANDS
These different classes of social influencers can present highly cost-effective options for brands with smaller budgets, according to Stacy Jones of Hollywood Branded. And, sometimes, small is better:
"A very base level is your micro influencer," she says. "These are people that have thousands to tens of thousands [of followers]." While considered low for an influencer, Jones says micro-influencers should not be ignored by brands. "They actually have the highest level of engagement of any type of influencer, including celebrity."
The next level is the macro-influencer, with tens of thousands to hundreds of thousands of followers. "They're a little bit more keyed in; they're producing content [and] they're used to doing that," says Jones.
"[Macro-influencers] get more brand partnerships usually just because they've been doing it longer and brands are looking at their audience rates."
THERE ARE MANY FACTORS AT PLAY
At these more attainable levels of influencer marketing, cosmetics brands pay influencers based on a number of factors:
The number of followers they have on a given platform
The platform(s) on which the creative content will be posted
The number and frequency of posts
The number of images taken
The service provided (eg. modelling, blogging, product giveaway)
An example from a recent Later blog post, showed one lifestyle blogger's price list as an a la carte menu (this personality had 118,000 followers and a 2.5% engagement rate):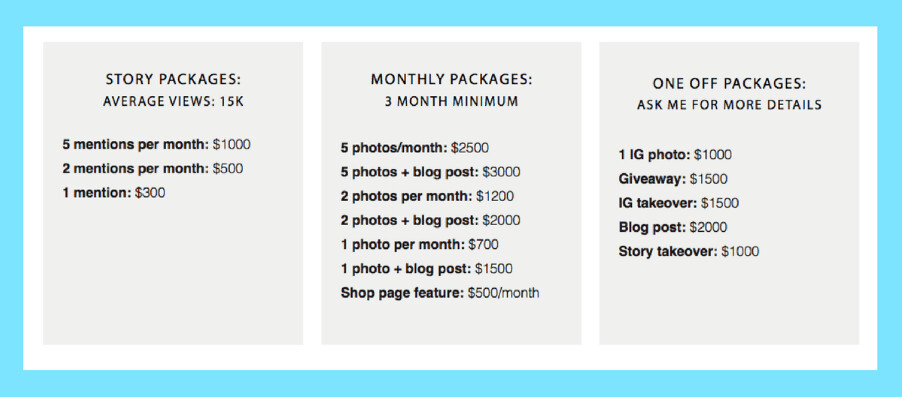 Source: Later.com
And, while follower numbers matter, it's not the primary consideration when evaluating influencers and their ability to bring referral traffic to an ecommerce site.
According to Later, 80% of brands quote the influencer's engagement rate as the most important factor when evaluating the suitability of an influencer.
In addition to some of those stratospheric costs, there are other reasons why spending on big-ticket influencers can backfire for an influencer and a brand.
HOW THE MIGHTY CAN FALL
Here's a big one: Household-name celebrity influencers can represent major risks to brands who advertise with them. After all, celebrities are human, and mistakes do happen:
Kylie's little sister Kendall famously mis-stepped with her ill-advised Pepsi ad, and – at least temporarily – paid the price.
Zoe Sugg was blasted on social media at Christmas time 2017 for promoting the sale of a largely worthless $65 Advent Calendar through one of her high street retail partners, and her online brand paid the price.
International recording artist Alicia Keys was dumped by failing smartphone manufacturer Blackberry from her role as "Creative Director" after a social post went out from "her iPhone".
Gaming influencer PewDiePie (born Felix Arvid Ulf Kjellberg) – a video content producer on Youtube with over 65 million subscribers – was dropped by Disney-owned Maker Studios after posting anti-Semitic content on his YouTube channel.
The list goes on…
All of these missteps do matter, because brands that leverage these influencers can also pay the price when their marketing spend goes sideways. For major international mega-brands like Pepsi, the impact might be costly but relatively short-lived. For smaller brands looking to grow their business on a tight budget, the impact could be catastrophic.
TWO OTHER CHALLENGES OF INFLUENCER MARKETING
Beyond the high costs and inherent risks of trusting celebrities with your brand, cosmetics companies have a couple of other important considerations.
Finding the right influencers
Econsultancy showed that the biggest challenge reported by marketers is reaching the right influencers.
The rise of influencer marketing platforms and consultancies clearly demonstrates that web searches and Instagram hunts are not enough to help brands find the most suitable influencers for their product lines.
And the rising popularity of influencer marketing – both among brands and practitioners – means that it's a sellers market, with brands struggling to find the right kind of influencer, with the right reach, at the right price.
Having a savvy team of influencer marketing experts to assist with finding and engaging the correct influencer will make all the difference in building a successful referral marketing campaign. Brands who go it alone will struggle with the overwhelming choice and confusion associated with finding influencers from scratch.
Attribution
Another significant challenge with the influencer marketing industry is attribution. Attribution is the assignment of credit for a particular sale to a given source. This is easily done when a customer clicks on a digital advertisement, then makes a purchase: the sale can be attributed to the online ad.
It turns out that it's much harder when it comes to influencers. Econsultancy's analysis showed that 65% of brands say that measuring the ROI is the biggest challenge in working with influencers. Two thirds of marketers who've tried influencer marketing think that influencers don't actually care where or not the paid post will ever generate traffic for the brand. And 60% of brands admit that they don't have an attribution model in place to assign credit for influencer sales.
Two-thirds of marketers who've tried influencer marketing think that the influencers don't actually care whether or not the paid post will ever generate traffic for the brand.
And, tellingly, vanity metrics like "web traffic generated" continue to be quoted as the greatest measure of success for an influencer marketing program, with the most important measure of ROI – "revenue generated" – listed as a mystifying and distant 3rd at 57%.
HOW ARE COSMETICS BRANDS LEVERAGING INFLUENCER MARKETING?
By following best practises, and partnering with experts in the field, cosmetics companies can keep costs under control and avoid some of the pitfalls with the associated medium.
Aveda recently partnered with influencer marketers Activate to build brand awareness and trust in their Invati haircare line. Aveda leveraged the Activate influencer platform to have six influencers post on their experiences with Invati haircare products. The influencers developed original content including long-form blog posts and social media posts to generate awareness. Through this platform, Aveda's influencers reached over 3.2 million viewers, and generated 84,000 social media engagements. While the revenues generated from this influencer program were not made public – nor the costs – that the value of these influencers is making an impact, and driving brands to invest in more structured influencer marketing programs.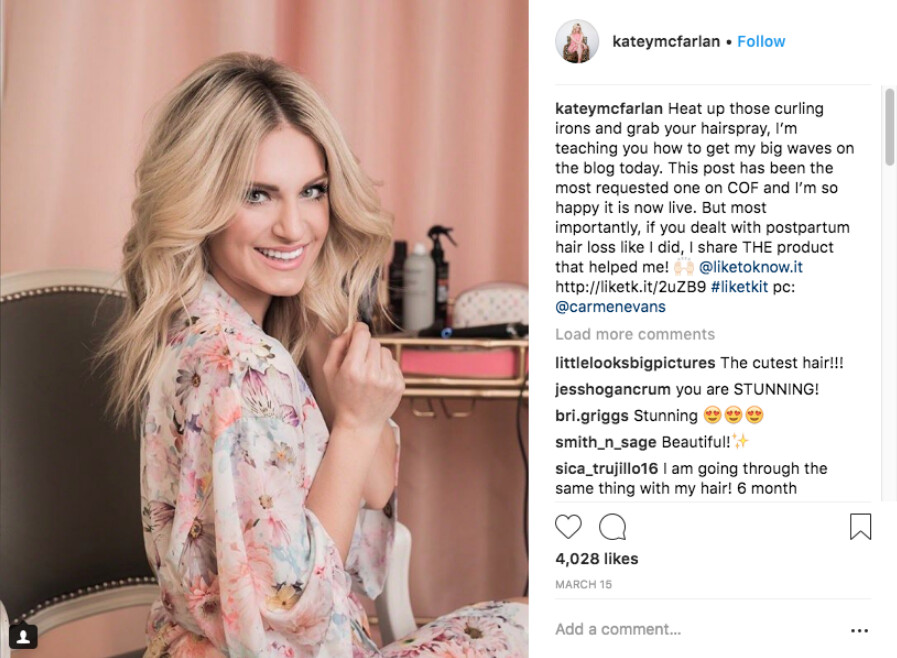 Source: @kateymcfarlan on Instagram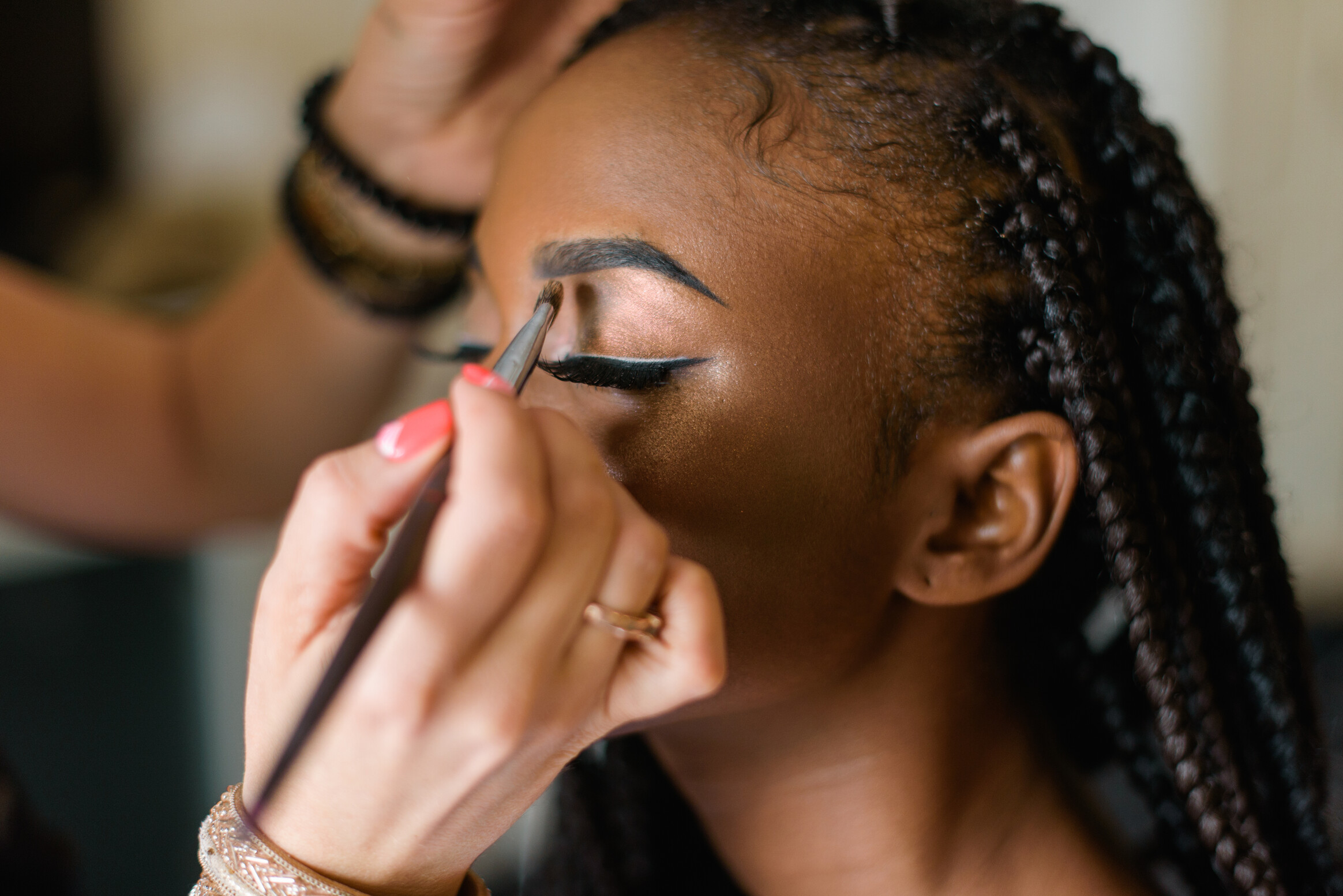 GO SMALL TO GO BIG: A COUNTER-INTUITIVE APPROACH TO INFLUENCER MARKETING
At Buyapowa, we believe very strongly in all aspects of word-of-mouth advocacy for brands. It is – without question – the oldest and most trusted way to market a business. The many faces of word-of-mouth – including referrals from influencers, affiliates and 1:many marketing – provide cosmetics brands with plenty of options to grow sales through online interactions.
Brand advocates come in many shapes and sizes, as measured by their ability to influence a company's growth rate.
Paid advocates come primarily in the form of influencers and affiliates.
Influencer marketing has its promoters and naysayers, but many brands still pay the big bucks to engage influencers to promote their brand. From mega-influencers like Kylie Jenner to and Zoe Sugg to those with 10,000 or even 1,000 followers. influencers can help cosmetics brands build their audience, but only provided that the right balance of cost and ROI can be found.
Affiliate Marketing works – provided secure platforms are leveraged where link stuffing and other questionable methods can be minimized.
Unpaid advocates come in the form of customers who leave online reviews, recommendations and ratings for a product or brand. This behavior is rarely rewarded in a structured way, and when it is structured and organized, it can all go horribly wrong).
Rewarded advocates, meanwhile, come in the form of customers and prospects who introduce their friends and family to a brand via referral programs. Referral programs are a form of paid advocacy, but they differ from influencer and affiliate marketing in that the advocate tends to be someone with an existing relationship and a naturally-sourced love for the brand. Often the referral behavior occurs with no expectation of reward, however brands have discovered that structured referral marketing programs can help to trigger referrals by offering incentives and rewards in return for a customer's referral.
Unlike most influencer programs – and all affiliate marketing programs – referral marketing programs reward a brand's customers for driving measurable sales, whether online or in store. Sometimes the rewards for these referrals are monetary but, sometimes, they're non-monetary – such as gifts with purchase, invites to special events, access to exclusive content, etc…
But, in all cases, referral programs leverage statistical principles that have proven themselves over time.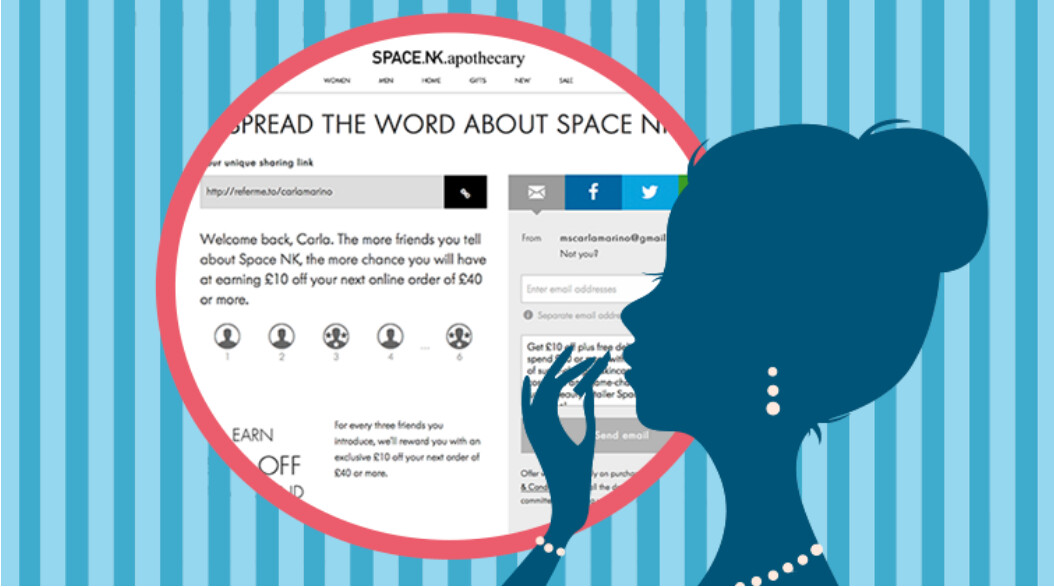 Source: Space.NK referral program
REFERRED-IN CUSTOMERS ARE DIFFERENT
Referred customers have a number of important characteristics:
Referred-in customers trust their friends and family's opinion more than they trust your advertising.
They are more loyal, making more purchases over time than customers acquired through other methods.
They spend more than your regular customers.
They are more likely to refer their friends and family to your brand.
Cosmetics brands like L'Occitane and Space.NK have implemented structured referral programs that are designed to reward their existing customers – people who have crucially already made a purchase with the brand – for encouraging their friends and family to make a purchase.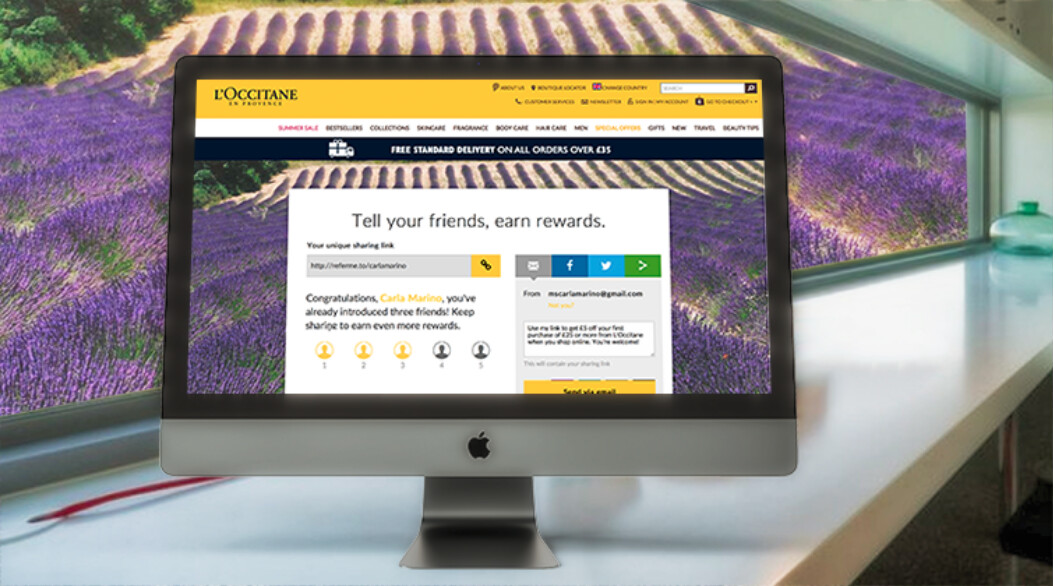 Source: L'Occitane referral program
REFER-A-FRIEND PROGRAMS ARE 1-TO-1 INFLUENCER PROGRAMS THAT ARE BUILT FOR THE COSMETICS INDUSTRY
Consumers have intensely personal feelings when it comes to cosmetics. After all, they're not just worn next to the skin – like clothing – they're applied onto the skin. So, when consumers fall in love with a cosmetics product – one that maybe makes them feel better about themselves, or makes them feel more healthy and attractive – it's a natural progression to want to share that experience with close friends and family members.
Some consumers might want aspirationally to feel like they can be as famous or attractive as a celebrity influencer, but the reality of life is that it's our friends and family who see us the most, who share our most personal experiences, and help us find our place in the world. So it's the people closest to us who we trust for advice, guidance and opinion on products that are safe, healthy, and make us feel better about ourselves.
That's why the rise of the nano-influencer – the person who can directly tell us about a product or service, speaking as a close friend and confidant – is changing the way that products are endorsed and promoted digitally.
To learn more about how referral marketing programs can benefit your cosmetics brand, reach out to us.